Colourful cocktails to make for cocktail hour to brighten the mood.
Colourful cocktails o'clock!  Sometimes, the mood calls for a drink that's fresh, fruity and most importantly, colourful. Try these recipe ideas to brighten your mood and add a splash of colour to your next dinner party.
Chillaxer
It may look like a party Mojito, but this delicious green colourful cocktail is designed to shut out the noise and put you in a deep state of relaxation.
Ingredients
SodaStream Sparkling Water
2 slices of cucumber
Small handful of basil
15 ml agave syrup
25 ml fresh lime juice
45 ml gin
15 ml elderflower liquor
Instructions
Fizz cold fresh water with SodaStream sparkling water maker
In a shaker, muddle the cucumber and basil with agave
Add the rest of the ingredients (except the SodaStream sparkling water) and shake vigorously
Double strain through a fine sieve, into a glass filled with ice
Top with SodaStream sparkling water
Garnish with a ribbon of cucumber and a basil flower
Serve in a stemless wine glass
Booze & Snooze
Hard day? It's time to relax.  This tantalizing mix has it all – satisfyingly sweet, slightly savoury, delightfully calming and pairs perfectly with relaxing music and a bubble bath.
Ingredients
A handful of white leaved savory
25ml lemon
25ml honey syrup
60ml chamomile infused Gin
SodaStream sparkling water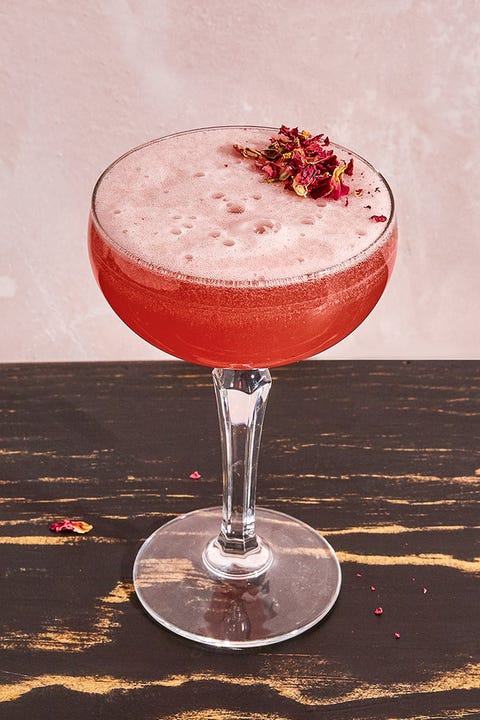 The Garden Rose
Feminine, sweet and pretty, this pinkish colourful cocktail will put a smile on your face.
Ingredients
1 oz Volcan de mi Tierra Blanco
.75 oz St Germain
.75 oz simple syrup
.75 oz lemon juice
4 shakes rose water
1 muddled strawberry
Instructions
Combine all ingredients in a shaker with ice. Shake and strain into a coupe glass. Top with cava and garnish with mixed dried flowers
From Gitano Jungle Room in NYC
Gin Fizz
This beautiful yellow colourful cocktail recipe makes use of gin, lime, Gomme syrup, soda water, and the optional addition of egg. No wonder it's one of the best lemony cocktails in the world.
Ingredients:
2.7 oz. soda water
1.5 oz. gin
1 oz. fresh lime juice
0.33 oz. Gomme syrup
Preparation:
Fill your shaker with ice cubes.
Add all the constituents-except for soda water- and shake vigorously.
Pour into old fashioned glass.
Top with soda water and serve.
Negroni
Certainly, one of the most popular cocktails from the cocktail list in most bars this vibrant orange colourful cocktail isn't too tricky to make yourself. Impress the dinner guest by following this easy recipe.
Ingredients:
1-1/2 oz gin
3/4 oz Campari
3/4 oz Sweet vermouth
Orange peel
Large ice cube
Preparation:
Build-in large mixing glass
Add ice cubes.
Stir with mixing spoon
Strain over large ice cube
Garnish with orange peel